SMOOTH LIFTED SKIN WITH A RARE ELIXIR
A superfruit with tiny seeds full of antioxidants. They protect the skin from environmental stress by neutralizing free radicals, responsible for skin's premature aging.
It has a record rate of:

☉ Vitamin E, the youth vitamin. It helps restore skin firmness and smooth emerging wrinkles.
☉ Stigmasterol Delta-7, a rare ingredient in the plant world which naturally slows down visible signs of aging.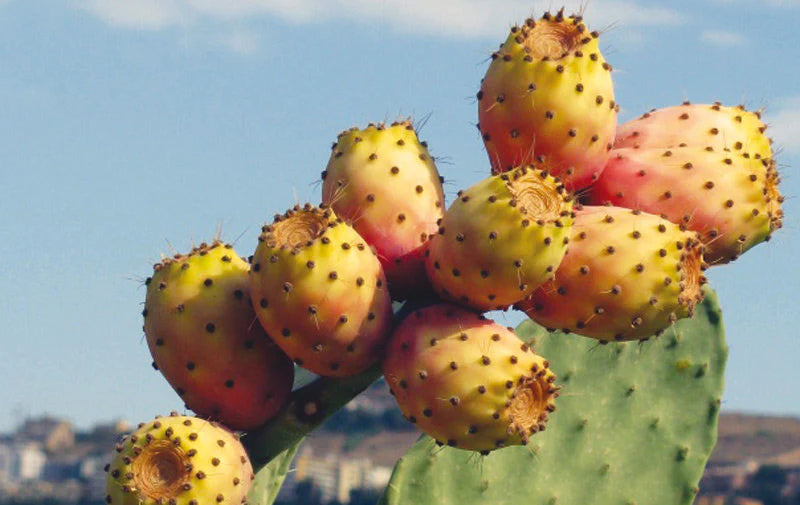 BRIGHTER EYES WITH NATURE
Dark circles and bags under the eyes are mainly due to poor blood circulation.
Prickly Pear seed oil is rich in Vitamin K that helps prevent and reduce their appearance by restoring good blood flow around the eyes.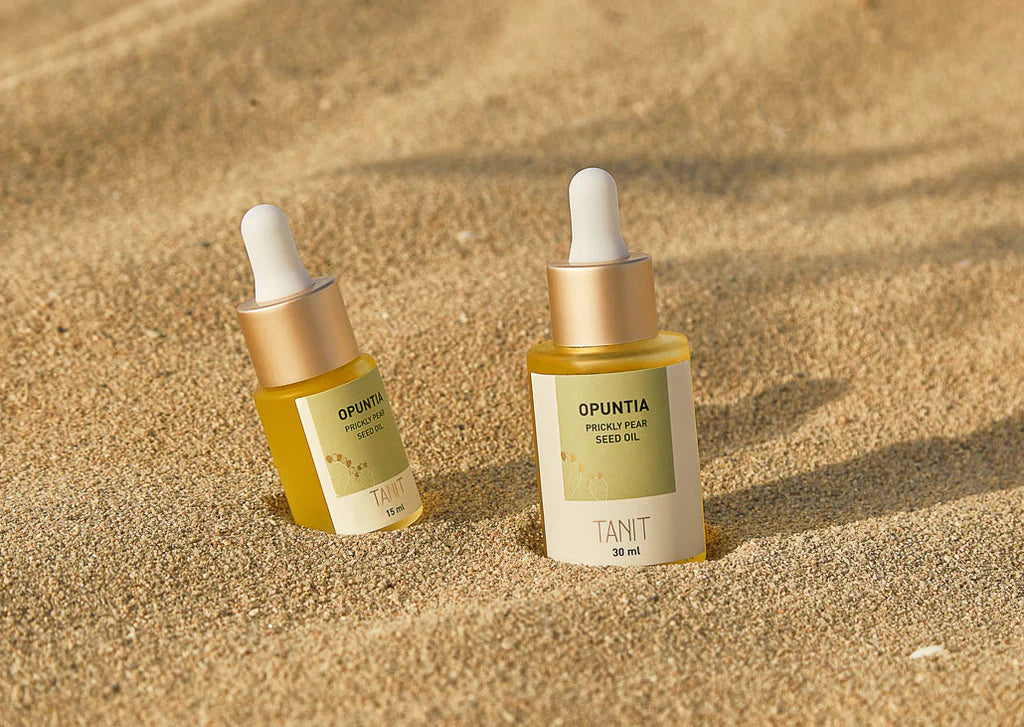 THE ULTIMATE SKIN RESCUE
Prickly Pear seed oil penetrates through skin deep layers for long -lasting hydration.
Its Omega-6 promote cell regeneration to visibly reduce scars and dark spots.
It also soothes skin irritations and redness with its anti-inflammatory properties.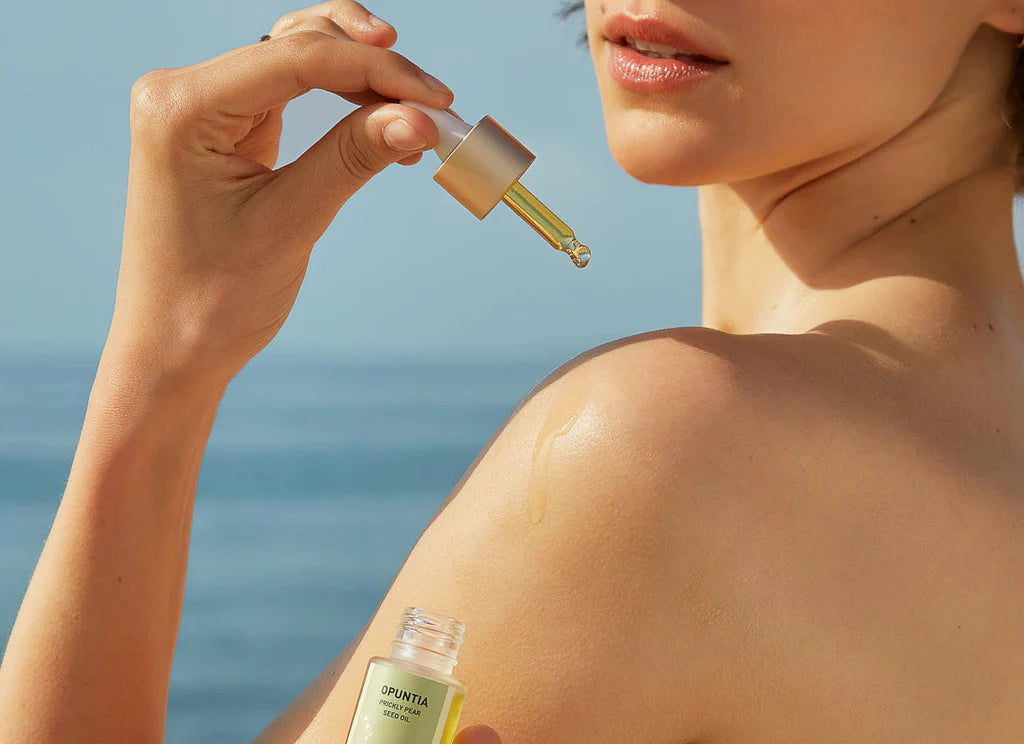 NATURAL DRY OIL
A light-textured gold oil that dries quickly on the skin and leaves a silky-smooth feeling without any oily residue.
It can be applied morning and night to the face and around the eyes.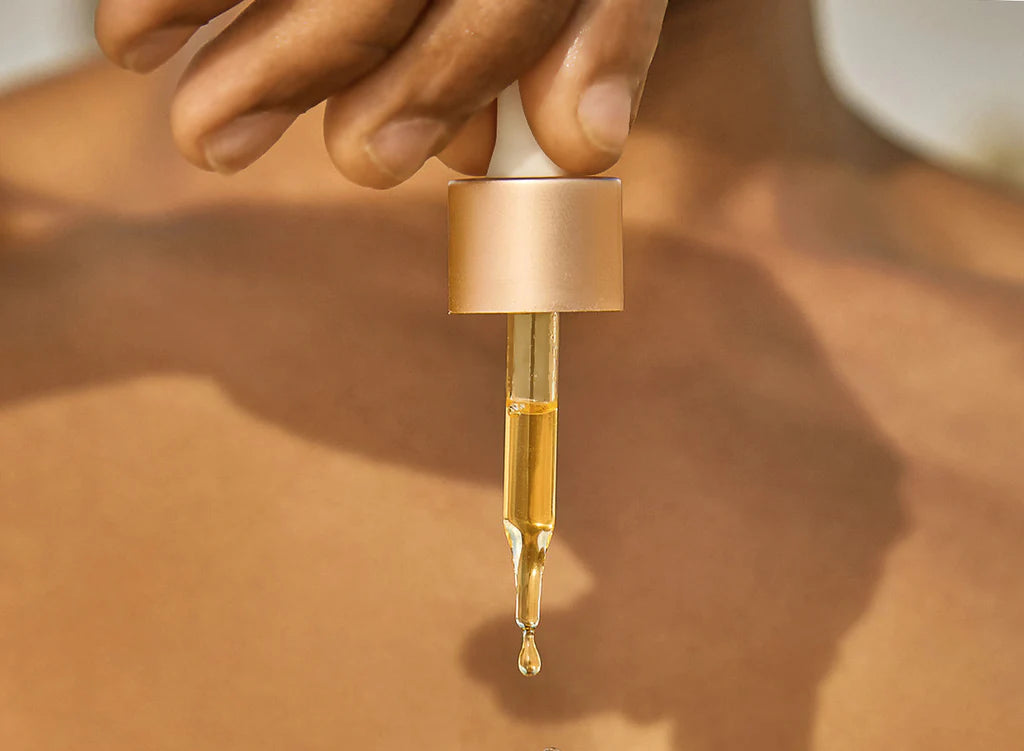 YES. Our 100% pure prickly pear seed oil is suited for all skin types, including sensitive or intolerant skin.

Thanks to its high content of various essential fatty acids, it helps calm down any inflammation and redness especially for those prone to rosacea or couperose. It also helps treat acne-prone skin and relieves the driest skin.

NO! Prickly pear seed oil is highly rich in linoleic acid, meaning it's extremely low on the comedogenic rating scale. Instead of clogging pores, it helps achieve balance in skin and doesn't give way to breakouts.

Sufferers of acne will love it because it works to prevent sebum from hardening and thus prevents blocked pores which would lead to acne and spots.

Prickly pear seed oil is one of the fewest plant oils suited for the delicate area of the eye contour. We recommend using it every night if you're looking to reduce under-eye circles, puffiness, or wrinkles around the eyes.

Apply one drop under each eye and smooth in, patting gently with your fingertip and starting at the inner corner of the eye outwards.

The more you use it, the more your skin will thank you! We recommend applying a few drops to your face and neck in the morning to keep your skin nourished and hydrated all day long and use it as an eye-contour treatment before going to bed.

Yes! It dries very quickly on the skin without leaving any greasy residue. Just wait until you feel your skin has completely absorbed the oil before applying.
Organic Prickly Pear Seed Oil
Smoother skin
Have only been using for approximately 2 weeks but have noticed better skin tone and less dryness. No reaction to product which has always been a problem using other lotions, etc. As it seems to have no oder, it does not aggravate my eyes.
We're delighted to hear that you've already noticed positive changes in your skin after using our product for just 2 weeks! Achieving a better skin tone and reduced dryness is a great sign of its effectiveness. It's wonderful that our product hasn't caused any adverse reactions or irritation, especially given your history with other lotions. The fact that it's fragrance-free and gentle on your eyes is definitely a plus. Thank you for choosing our product, and we're thrilled to be a part of your skincare routine. If you have any questions or need further assistance, please don't hesitate to reach out.
Huile de pépins de figue de Barbarie
J'adore cette huile, elle pénètre bien la peau et la rend très douce. Parfum subtil et agréable. Heureuse d'avoir découvert cette huile!
Wow! Merci énormément pour ce retour!
Tous vos produits m'enchante
Organic Prickly pear seed oil
amazing, product I lost some as I went to open it and it went all over the place but what I could salvage it is the most beautiful oil honestly, I will have to order another bottle non greasy and so hydrating.....absoutley love it.