KEEPING YOU SAFE AT WORK AND AT PLAY
Staying safe and washing your hands often is SO important for you and for all of us.
With our super-soft formula using plant extracts and essential oils, no matter how often you wash, your hands will thank you.
 
STEP 1: Fill up reusable soap dispenser with water.
STEP 2: Add Foaming Hand Soap tablet.
STEP 3: Pump away!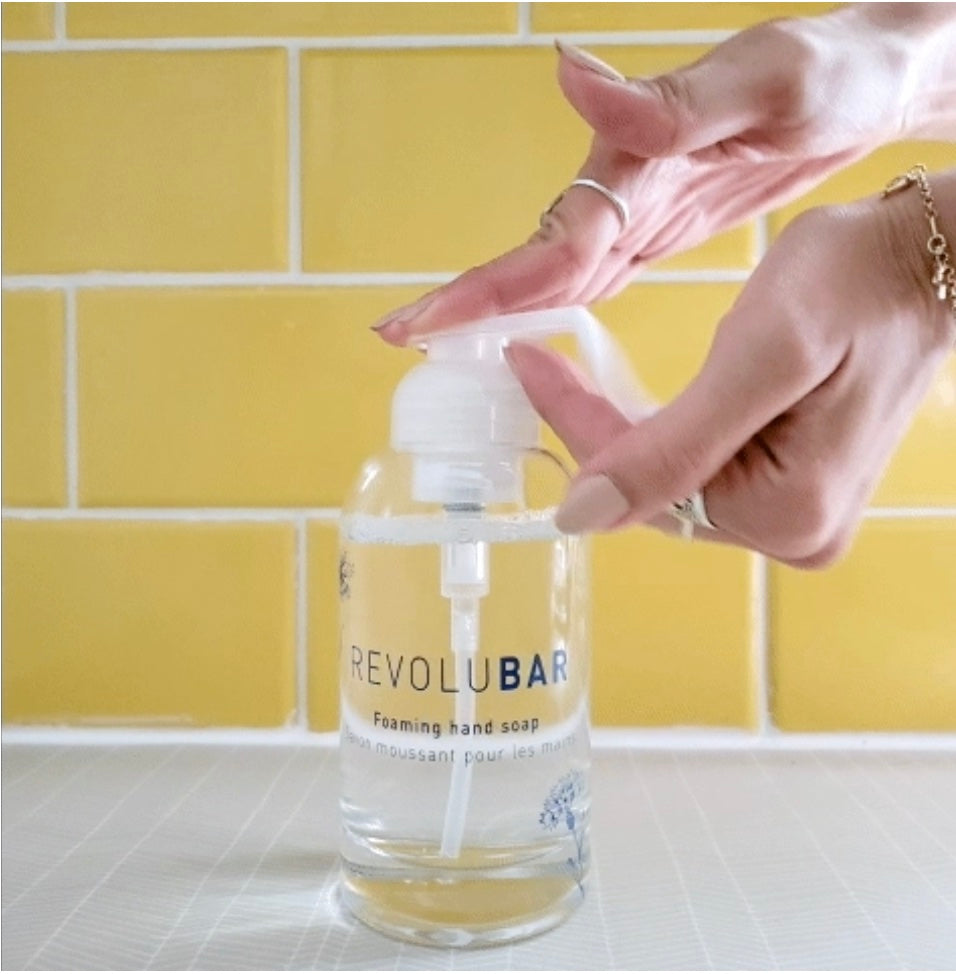 A GENTLE CLEAN WITH NATURE
Our hand soap does not contain any chemicals to dry out or irritate skin.
That means no sulfates, phthalates, VOCs, parabens, or ammonia.
Our plant-based formula and pH-balanced ingredients keep hands feeling hydrated and smooth after each wash.
☉ Aloe vera + allantoin work together to maintain and restore skin's moisture levels while providing a calming effect.
☉ Cucumber + green tea extracts are loaded with vitamins and antioxidants to deeply nourish and help rejuvenate hands after washing and sanitizing.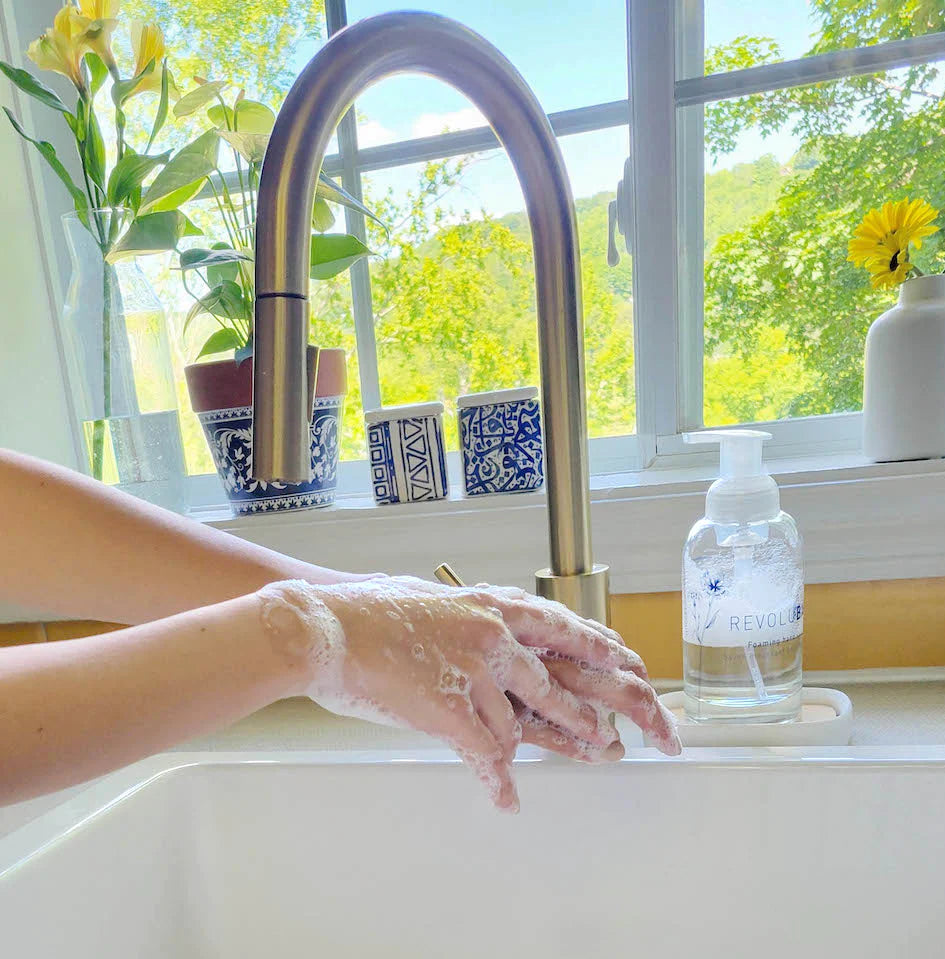 ONE DISPENSER; ENDLESS REFILLS
One dispenser used with countless tablet refills helps reduce CO2 transport emissions, prevent plastic bottles from being produced and discarded, and provide you with exceptional convenience.
Enjoy a stylish design to fit perfectly in any space in any home.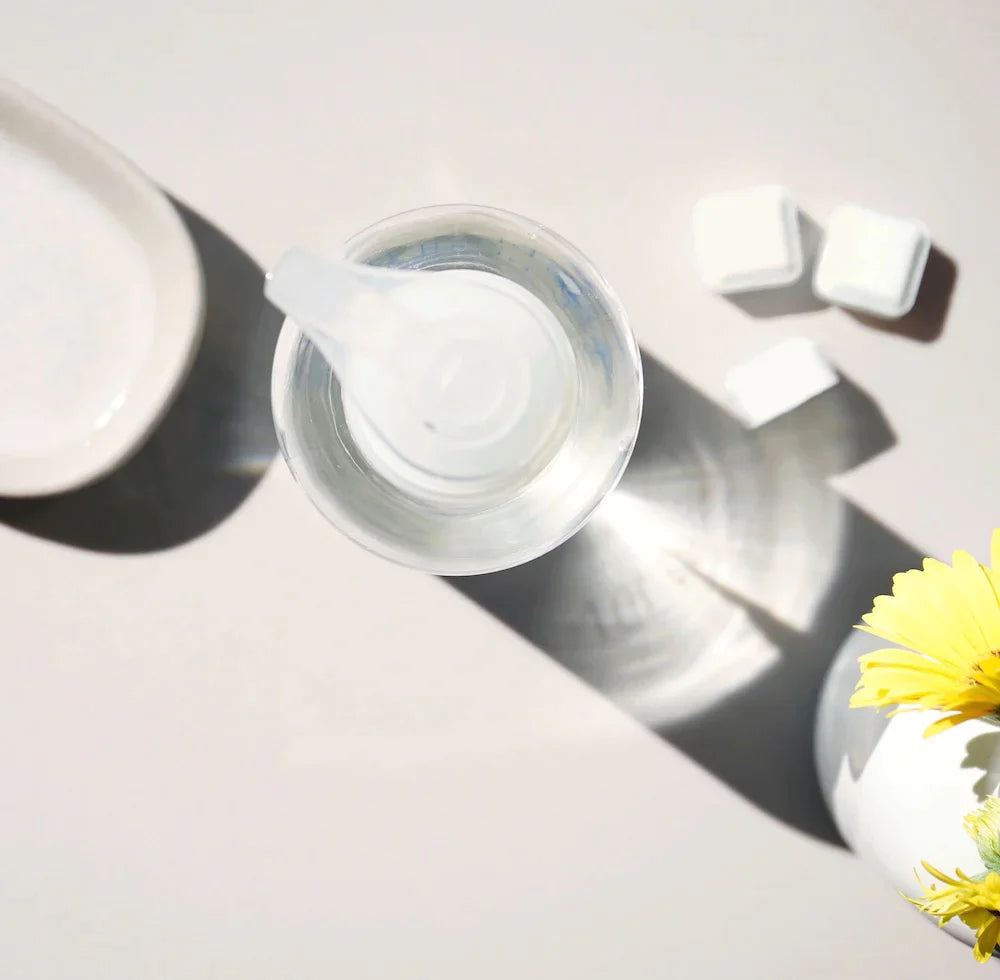 NO! They use natural or naturally derived ingredients that are as safe for your family as they are for your home, all without losing any performance or effectiveness.
With no specific testing, we cannot claim the ingredients are hypoallergenic. However, REVOLUBAR products have been developed without known allergens.

Yes, our plant-based formula does not dry out or irritate skin. In fact, it has been specifically developed to help rejuvenate skin after repeated washing and sanitizing with pH-balanced ingredients that keep hands feeling smooth and hydrated wash after wash.
If you wish, you can purchase just the tablets in our Home Care page (Foaming Hand Soap Refills) but make sure the dispenser you have is specifically suited for a foaming soap, otherwise the product won't release properly.
We recommend you use our REVOLUBAR glass dispensers
as we specifically designed them large enough for our refill tablets, and strong enough for countless re-use.
We're glad you like our fresh scents, but no, we don't use any chemical fragrances. All our fragrances — and colours, for that matter — are 100% natural to keep you safe.
Even though we recommend asking
your doctor before use, know that all our products have been carefully
developed with ingredients that are not listed as potentially unsafe for
pregnancy. More specifically, our hand soap does not contain VOCs (Volatile Organic Compounds), and they don't use any essential oil.
The shelf life of our soap
tablets is 2 years if you keep them tightly sealed in their pouches, but only year once they're dissolved.
J'adore !
Étant également consciente des gestes à poser pour l'environnement j'adhère entièrement à ce produit. Il me convient parfaitement. Je vous félicite pour votre grand soucis de tout mettre en œuvre pour diminuer l'empreinte écologique. Longue vie à Tanit !!
Toothpaste
Excellent toothpaste tablets . A healthy alternative to standard toothpaste
Love them!
I bought this set and I'm very happy with it. The bottles are great and the colour in the tabs once dissolved is very handy! Love all the products.
Smells divine
I like using less plastics so these are refills for my glass foam soap dispensers, I love that!
Détergents
Ces produits font partie de mon quotidien.