KEEPING YOU SAFE AT WORK AND AT PLAY
Staying safe and washing your hands often is SO important for you and for all of us.
With our super-soft formula using plant extracts and essential oils, no matter how often you wash, your hands will thank you.
 
STEP 1: Fill up reusable soap dispenser with water.
STEP 2: Add Foaming Hand Soap tablet.
STEP 3: Pump away!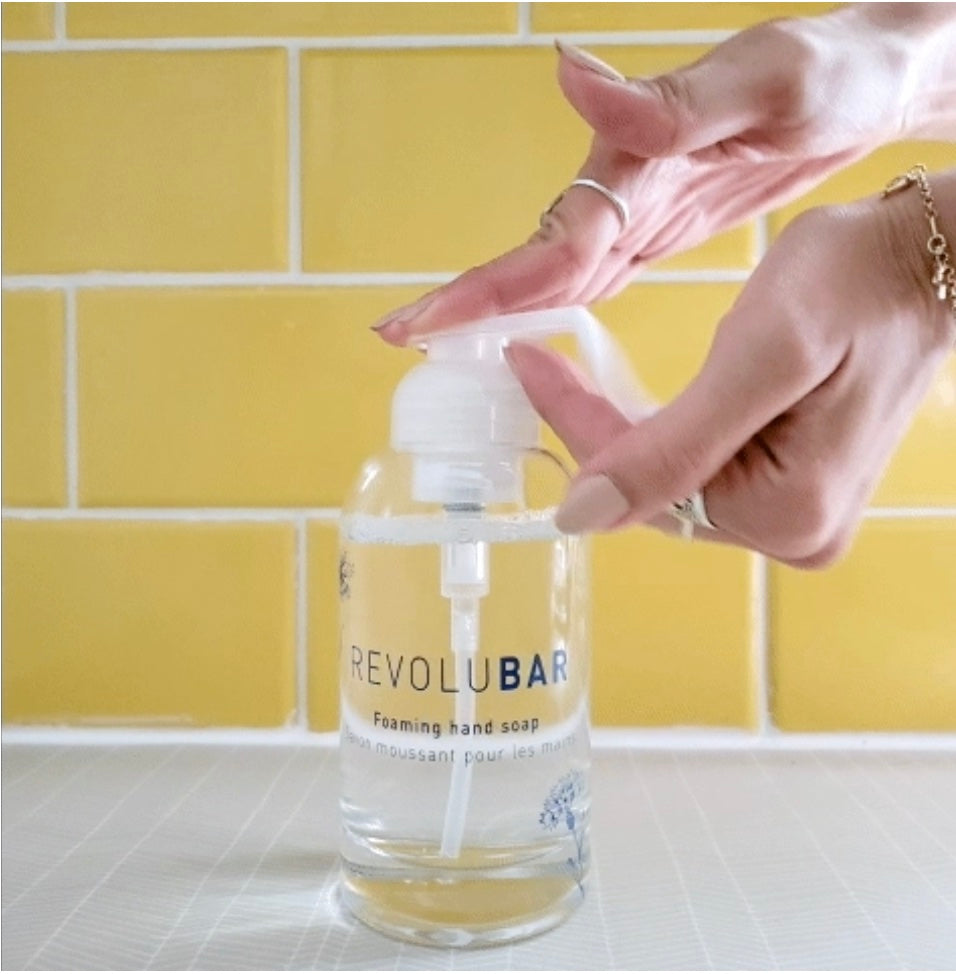 A GENTLE CLEAN WITH NATURE
Our hand soap does not contain any chemicals to dry out or irritate skin.
That means no sulfates, phthalates, VOCs, parabens, or ammonia.
Our plant-based formula and pH-balanced ingredients keep hands feeling hydrated and smooth after each wash.
☉ Aloe vera + allantoin work together to maintain and restore skin's moisture levels while providing a calming effect.
☉ Cucumber + green tea extracts are loaded with vitamins and antioxidants to deeply nourish and help rejuvenate hands after washing and sanitizing.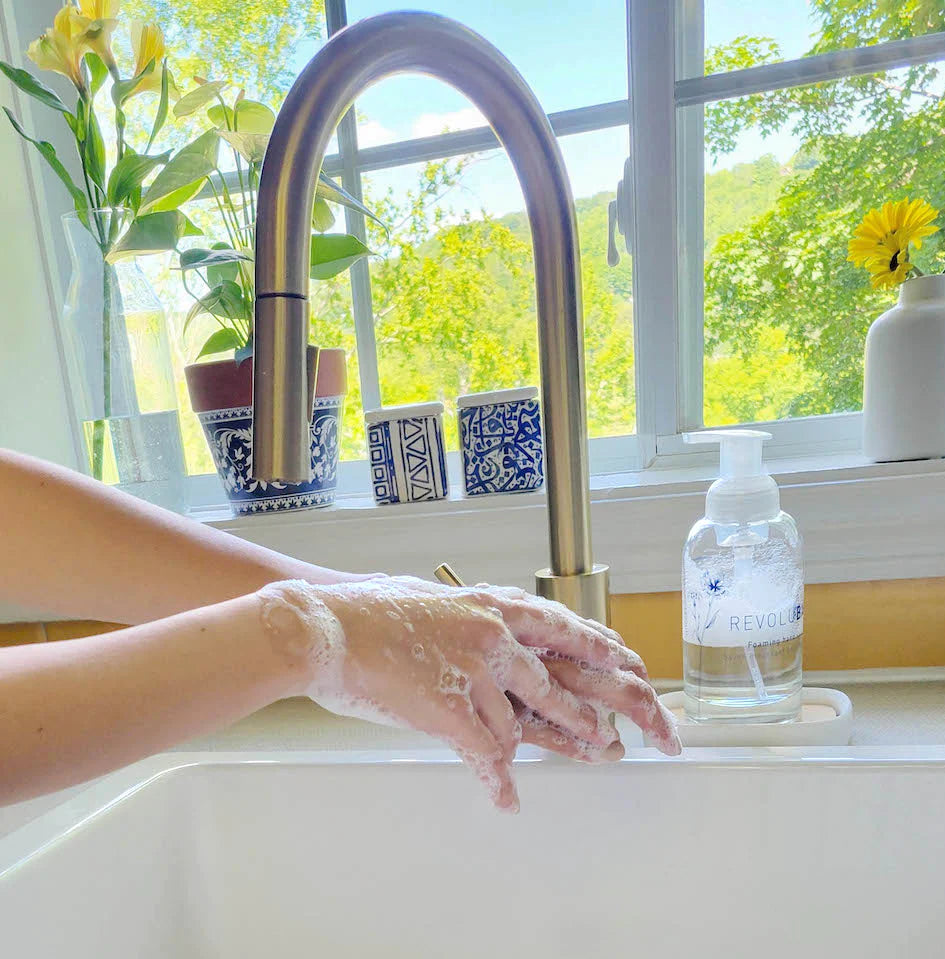 ONE DISPENSER; ENDLESS REFILLS
One dispenser used with countless tablet refills helps reduce CO2 transport emissions, prevent plastic bottles from being produced and discarded, and provide you with exceptional convenience.
Enjoy a stylish design to fit perfectly in any space in any home.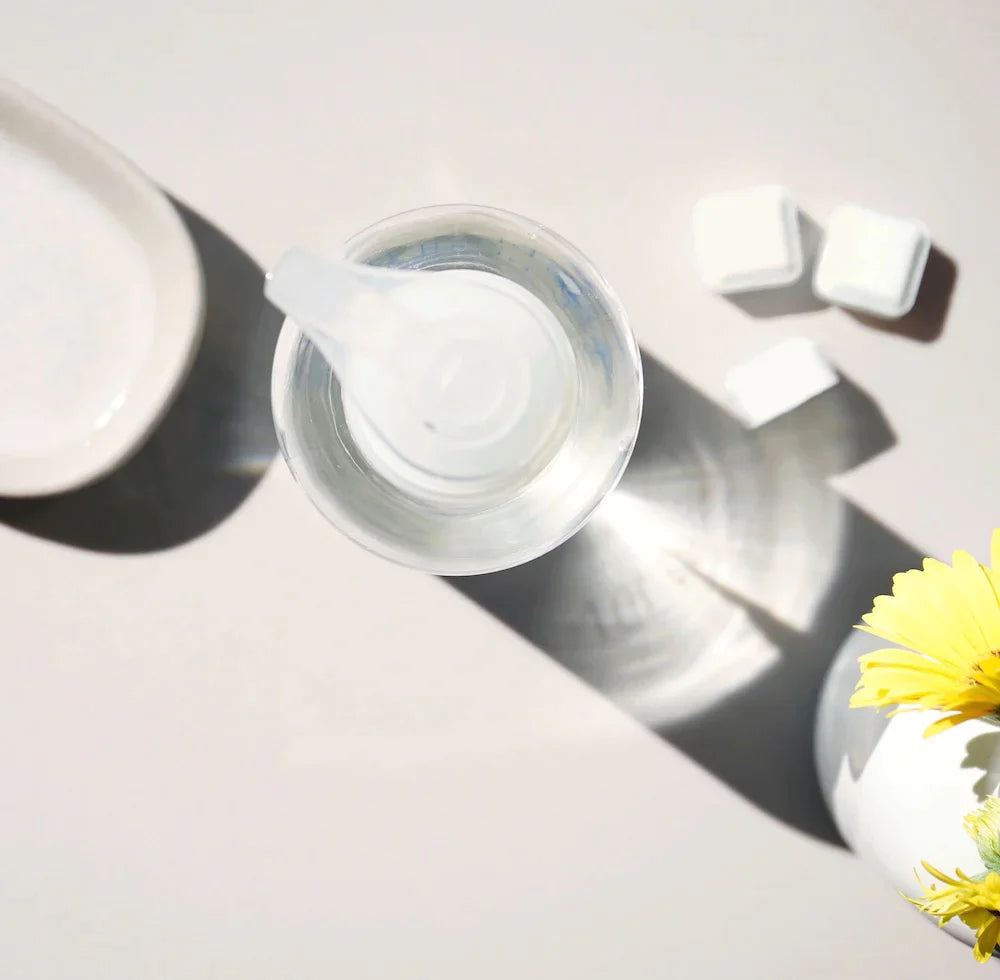 NO! They use natural or naturally derived ingredients that are as safe for your family as they are for your home, all without losing any performance or effectiveness.
With no specific testing, we cannot claim the ingredients are hypoallergenic. However, REVOLUBAR products have been developed without known allergens.

Yes, our plant-based formula does not dry out or irritate skin. In fact, it has been specifically developed to help rejuvenate skin after repeated washing and sanitizing with pH-balanced ingredients that keep hands feeling smooth and hydrated wash after wash.
If you wish, you can purchase just the tablets in our Home Care page (Foaming Hand Soap Refills) but make sure the dispenser you have is specifically suited for a foaming soap, otherwise the product won't release properly.
We recommend you use our REVOLUBAR glass dispensers
as we specifically designed them large enough for our refill tablets, and strong enough for countless re-use.
We're glad you like our fresh scents, but no, we don't use any chemical fragrances. All our fragrances — and colours, for that matter — are 100% natural to keep you safe.
Even though we recommend asking
your doctor before use, know that all our products have been carefully
developed with ingredients that are not listed as potentially unsafe for
pregnancy. More specifically, our hand soap does not contain VOCs (Volatile Organic Compounds), and they don't use any essential oil.
The shelf life of our soap
tablets is 2 years if you keep them tightly sealed in their pouches, but only year once they're dissolved.
Parfait!
J'adore les bouteilles en verre qui paraissent super bien sur le comptoir. Je cherchais une alternative durable pour le savon à main et j'ai trouvé! Très contente de mon achat!
Love it
Smells great. Nice lather
J'adore
Plus je l'utilise plus je l'adore. En premier, son parfum tellement agréable que ça donne le goût de faire le ménage. De deux, ma douche en céramique est redevenue éclatante. J'ai aussi découvert qu'en le laissant agir 15 minutes ou moins, il fait disparaître les taches de thé incrustées dans les tasses et les résidus de savon dans le lavabo. Ma conscience est tranquille en utilisant des pastilles auquel je ne fais qu'ajouter l'eau de mon robinet. Il faut vraiment l'essayer .
Nous sommes fiers de contribuer à rendre votre vie plus facile et plus écologique avec nos pastilles. Merci beaucoup d'avoir partagé votre expérience positive avec nous, et nous encourageons tout le monde à suivre votre conseil et à essayer notre produit. Si vous avez d'autres commentaires ou questions, n'hésitez pas à nous les faire savoir.
Foaming Hand Soap Starter Kit
Great option!
I appreciate having better options for laundry. The tablets are easy to use, dissolve fully and result in clean, fresh clothes. Thank you for providing friendly options for eco conscious consumers.
Thank you for your support!